Leadsology® Diagnostic Assessment Questionnaire
Welcome!
If you want to know exactly what you need to do in order to generate demand for your service then you've come to the right place.
Click here to start your assessment (it's free!)
The Leadsology® Diagnostic Assessment Questionnaire creates a fully customized report that identifies those parts of the Leadsology® Model you need to develop in order to generate high quality, inbound leads in sufficient quantity to meet your revenue and earnings objectives.
And your report is 100% free and no credit card is required.
Your report will include your own personalized Leadsology® Wheel that graphically shows the exact areas of development give some attention to.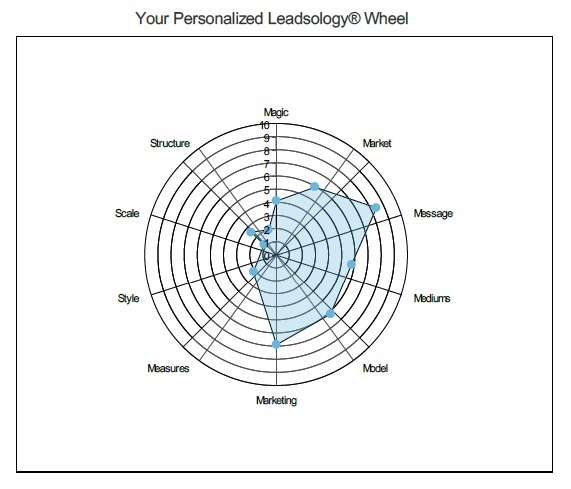 Even better, each part of your Leadsology® Wheel will contain the page reference to the relevant section in the Leadsology® Book that explains what "what, why and how" for developing that part of your Leadsology® Model and thereby creating an even more effective lead generation model for your business.
There are three parts to the questionnaire.
Part One consists of seven questions and allows us to calculate the number of leads you need each week to generate the demand and revenue you want and to thereby also create the lifestyle of your choice.
The number of leads you need is what we call the "#1 Number" and I recommend that your #1 Number becomes a top priority objective every week because achieving that objective unleashes the power for you to enjoy the fulfilment of so many other goals including caring and supporting for your children's' education, supporting your husband/wife/partner, living where you want to live and in the style of home you want to live in and so much more.
Part Two is the assessment itself. In this part you'll answer 25 questions where you'll rate your effectiveness for 25 key aspects of the Leadsology® Model on a scale of 1 – 10, "1" being "I suck at this" and "10" being "I'm knocking it out of the ball park for this".
I know that 25 questions seems a lot but I need your answers to that many questions so I can give you super specific recommendations that will maximize the value of the advice I provide for you in your customized report.
Part Three asks you to tell us a little about yourself including your motivations for wanting to know more about how to create demand for your services. The reason we want to ask you to tell us a little more about yourself is so that we have the opportunity to respond to your needs as precisely as possible.
Click here to start your assessment (it's free!)
Once you complete the questions we'll email your report and you should have access to it within just a few minutes. Make sure you white list diagnostic@leadsology.guru so that the email we send doesn't hit your spam filter!
Yours strategically,
Tom Poland
Chief Leadsologist